close
arrow_back_ios
arrow_forward_ios
close
Submit your email to download
close
Search game titles, platform, tags and/or text.
close
Enter the page you want to go.
After Service Gangbang Addicts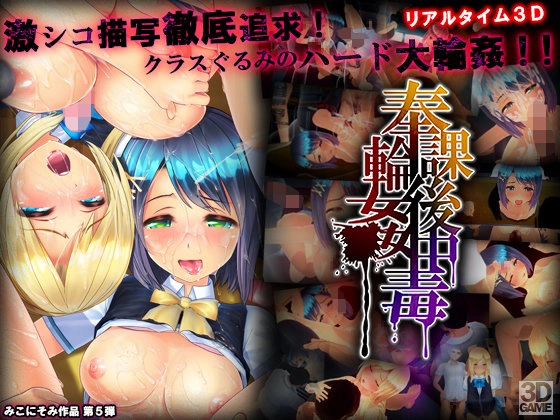 Overview
You have transferred to the same school as your younger step sister, Sayo. But, Sayo has fallen victim to a dastardly trap set by the schools Queen Bee Elena and is now a raving sex addict. Will you attempt to save Sayo? Or perhaps lend a helping hand in her descent into debauchery. A secret after school stage of sex, service and gangbangery. Hardcore real time 3D gangbangs! The heroines are played with by multiple men! - Extreme bukkake with a focus of every last cummy detail!! - Moving! Real cross-section depictions available. - Fully voiced with the lewdness galore! - Can customize the heroines body and hair style to your liking. - Real time events for that extra effect! - Easy to control keypad input. * Gang bang bang banged by a group of men. - Cunnilingus, hand job and fellatio all at the same time - Restrained and missionary + boob job - Missionary + cowgirl double penetration + fellatio - Manko grinding with face and back of the knee c*ck rubbing. - Bondage, mid air suspension and double penetration - Tied to the table and tormented by electric massage tools ...
with irrumattio too!? - Toy and anal double hole torment + foot job breast teasing - From the front, from behind! Guillotine restraint f*ck With bukkake alllll along the way! * Ecchi for only two Missionary, fellatio, boob job, side sex, hand job, doggy style, anal, lick fap, cowgirl... After cumming, a ruthless unrelenting torment causing consecutive spine arching climaxes! Some motions will change depending on the character's level of LOVE or BITCH parameter! * Also, 6 types of 'service' to 4 girls and over 50 types of touchy touchy foreplay!!
Images
Downloads
Tags
You can click the tags to find games of the same category.