close
arrow_back_ios
arrow_forward_ios
close
Submit your email to download
close
Search game titles, platform, tags and/or text.
close
Enter the page you want to go.
NTR Girl ~I Thought I Was the Only One That Loved Her~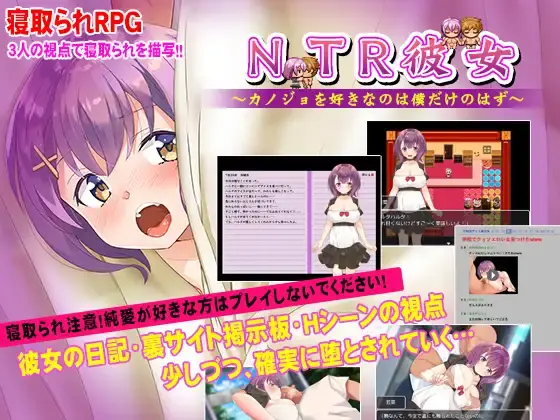 Overview
This game is about confessing your love to your childhood friend over summer break. If you're able to complete your confession in time, you'll get together, and your dream will be fulfilled. However, if you play around too much, perhaps another boy will swoop in to steal her away from you... If she's left alone...her purity cannot be guaranteed. If you're too slow, you might even get a front-row seat to her getting taken from you! You might also see how she's changing via uploads on certain adult websites... Can you get together with the heroine in time!? "This will be the summer I confess to Wakana!" Haruta finally decided, the day before the start of summer break, that this will be the year he confesses his love. Wakana surely feels the same, and it seems this summer will be a fun, and fulfilling one. But... "Hey, you know that Wakana Nonomiya?" "Wow, look at her tits!" "Alright, I've decided.
I'm gonna make her my sex friend before summer ends." It seems like another boy is after Wakana... A handsome playboy that's popular with all the girls. Will Haruta be able to win against him?, or will Wakana be used and corrupted? (NTR avoidable by deleting the game )​
Images
Downloads
Tags
You can click the tags to find games of the same category.