close
arrow_back_ios
arrow_forward_ios
close
Submit your email to download
close
Search game titles, platform, tags and/or text.
close
Enter the page you want to go.
Paid Dating Fantasy ~Love & Courage & Paid Dating Will Save the World!~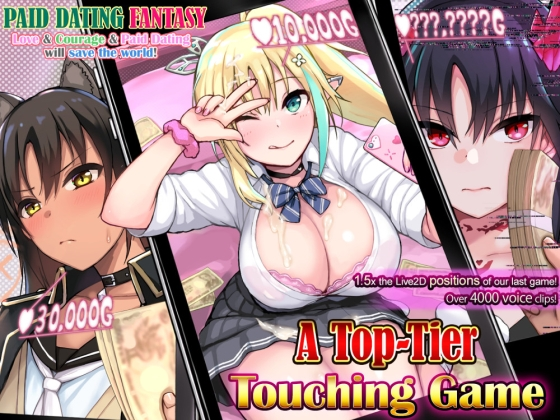 Overview
This is your typical sword-and-sorcery RPG medieval fantasy world. You're a poor adventurer, sitting in a bar and ruminating on why your relationship with Sasha, an elven waitress, is going nowhere. "You look troubled, adventurer." In that moment, the (self-appointed) love fairy, Seravy, bestows upon you the skills to make your love fulfilled. As she raises a medallion into the air and it shines with a blinding flash, a new skill appears in your status menu. The legendary rare skill, [Paid Dating]. ...Your [Paid Dating] skill has the following effects. 1.
Taking a picture of a girl with your smartphone camera will display an amount of money. 2. By offering that amount, she'll be GUARANTEED to agree to a sexual liason with you. Can you use this skill to make your love bloom!? Actually, what does it say about you as a person if you use something like this!? To start with, is the thing that gave this to you really a love fairy!? In the midst of all this doubt, the curtain raises on your adventure in "Paid Dating Fantasy"!!
Images
Downloads
Tags
You can click the tags to find games of the same category.