close
arrow_back_ios
arrow_forward_ios
close
Submit your email to download
close
Search game titles, platform, tags and/or text.
close
Enter the page you want to go.
The Married Selena and the Dungeon of the Magic Stone [v1.02]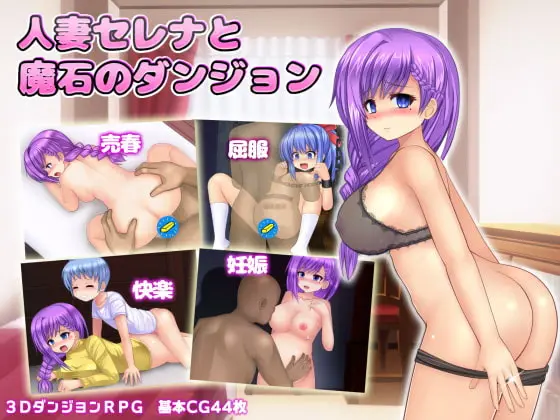 Overview
The protagonist is the hero's wife. However, after spending many peaceful years, her skills as an adventurer are not as good as they used to be. The dark guild takes advantage of her kindness! During the day she is forced to help with adventures, and at night she must serve the guild members sexually! Only one path of salvation is available for Selena.
She must venture to the depths of the dungeons with others who face the same fate! The power Selena grows from doing naughty things and this increases her strength in battle! But the men of the guild are ruthless and will show her no mercy. If Selena has sex too much, she might be corrupted...? There is no time limit to this game! However, as the days pass, the heroines will get defiled by the men. The fate of the heroines lies in your hands.
All heroines who are not active at night will be raped by the guild members. Will you complete your quest as fast as you can, or will you enjoy seeing the women get corrupted...? Randy exterminates monsters in the surrounding areas and is respected as a hero. His wife and party member, Selena, both retire from adventuring after defeating the demon king. After giving birth to a daughter, they live peaceful lives as villages.
As time passed and their daughter grew... After mingling with the villagers in her husband's place, an unfortunate circumstance causes a treasure to crack. A powerful monster is sealed in the treasure, and in order to fix the seal, she needs to gather materials from a dungeon. A kind married woman becomes a sex slave of a lecherous dark guild.
What fate awaits the wife of the hero...? Gameplay - 20 scenes for Selena, and over 4 scenes each for your three allies! - Sex scenes are available for certain sub-characters too. - Erotic equipment is available for all. - The 'sleepover' system in previous games in completely automated. All heroines who are not active at night will be raped by the guild members.
So you don't have to command each heroine and their womb tolerance will deplete. - In order to form contracts with mercenaries, the heroines will seduce men with their bodies, even though they are married. - Having sex with mercenaries is only the tip of the iceberg! You can talk to the friendly old man, Selena's daughter's friends, and even homeless people! Seduce male characters and...? Enhance mercenaries even after you make a contract with them! Make them impregnate the heroines too! - During sex scenes, if a heroine's 'Wombe Tolerance' gauge reaches 0, she'll get pregnant and trigger a pregnancy event! - Each character has their preg-belly pose art variation.
There are also some preg-belly sex scene variations too! - Of course there is a pregnancy bonus! Knock up your favorite heroine and continue enhancing! - A contraceptive item is available for those who are not fans of pregnancyor simply want to enjoy the game as an RPG!
Images
Downloads
Tags
You can click the tags to find games of the same category.