close
arrow_back_ios
arrow_forward_ios
close
Submit your email to download
close
Search game titles, platform, tags and/or text.
close
Enter the page you want to go.
The Masculine Mystique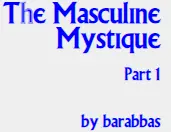 Overview
Your name is Parker Comstock. You are a delicate teenage boy and your life is about to change. After the tragic passing of your father a year ago, your mother (who works as a personal assistant to a chemical company CEO) started dressing very differently for work. At some point she started having an affair with her boss.
She never told you so, but all the late nights at the office with her boss driving her home, obviously intoxicated, with her clothes in disarray and reeking with the smell of semen... Well, you are not the usual thickheaded protagonist. You eventually reconciled yourself to the reality that your mother had become a slut.
Worse, her boss was married with a couple of kids. You'd always been pretty non-confrontational so you didn't make anything of it, though privately you raged at this betrayal of your dead father. A few weeks ago, she announced that the two of you would be moving in with her boss, away from where you've lived all your life, to a fancy place called Rosestead where the CEO lives.
You were livid. Just as you had finally gotten yourself a girlfriend - Emily -, you would have to leave her and your best friend - Billy - behind. "Besides," you said, "I thought he had a wife and kids?" Your mother then informed you that the two of you would be moving in with him, his wife, and his children. "That's crazy," you said.
"Why would his wife possibly agree to this?" But your mother wouldn't explain it. "Maybe the rich are different," you thought...
Images
Downloads
Tags
You can click the tags to find games of the same category.